A political campaign slogan is a brief statement that describes what your campaign is about. The best election slogans for state representative and senate candidates are short statements that are both positive and suggest action.
Your slogan should be easy for voters to remember and helps emphasizes your message.
These example slogans are suitable for state representative and state senate candidates.
[Candidate] for action. [Candidate] for reform.
A Voice for [Smart Growth/Lower Taxes/Etc.]
A Voice for You
Fighting for Us
Integrity. Honesty. Commitment. [Any combination]
It's About You
Protecting Your Tax Dollars
Right Time, Right Choice.
It's Time for a Change
Taking Action, Getting Results.
Experience / Leadership / Commitment (Any order)
Let's Make a Difference!
Proven [Leader/Tax Cutter/Experience]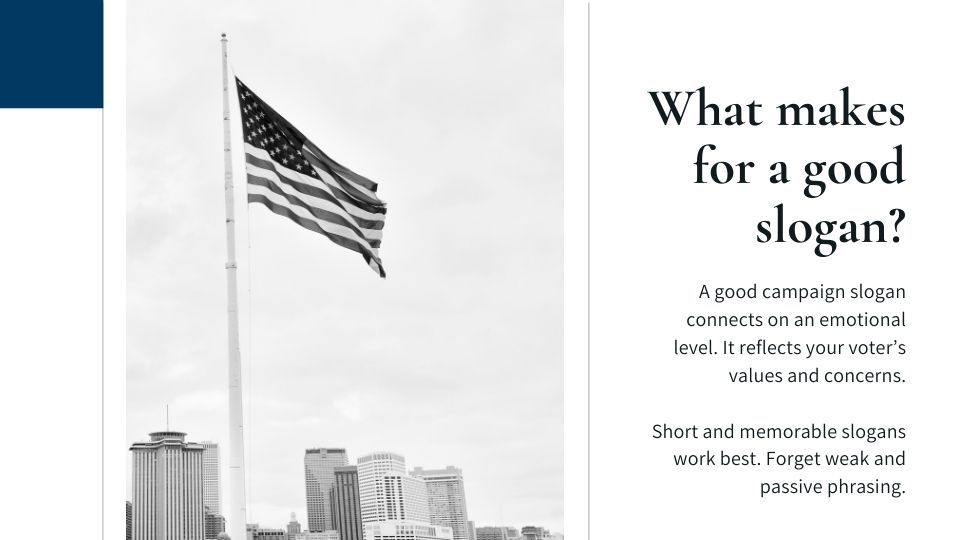 Know your voters and the issues that affect them the most. Are taxes and pending a concern? Focus on the state budget. Is the economy suffering? Focus your slogan on starting a new direction, or having a new vision for the state.
If you plan to recycle a slogan from a previous, well-known candidate, you will by association take on the good and bad of that campaign. Do some research first to see if your slogan is a fit.